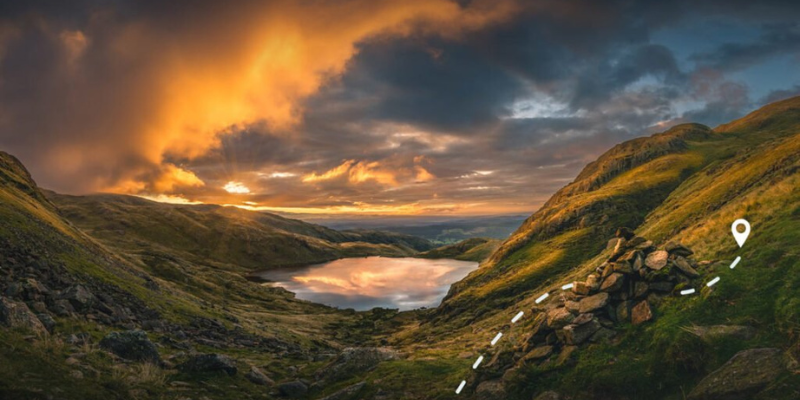 By Mark Sandamas, Owner C2C Packhorse, PHSV and S-Cape UK.
Last Sunday I was in Malham with my daughter for a walk; It's always a beautiful place to visit and especially on this cold crisp winter morning with a clear blue sky, frozen fields, icy sheen on the stone walls… It was one of those near perfect walking days at this time of year.
But, it wasn't just us having those thoughts – even at 9am the car-park was filling up, and it was fantastic to see lots of people coming out to walk – I suspect Facebook and Instagram were full of great photos by the end of the day! Besides the naturally imposing scene of the famous Malham Cove, there was something rather smaller that caught our eye – Daffodil stems, almost fully extended and giving the impression that the burst of sunshine yellow petals were waiting impatiently to come out. Is there a more delightful sign that Spring and the real newness of the year is not far off?
In the fields around us the Ewes will soon be giving birth, which also means two members of our team – Alison and Hayley – having many crazy sleepless nights on their farms delivering lambs that have been gestating since late last summer until fully formed and ready, soon to wow us all and feature on many more social media photos! It's amazing to see several hundred new lambs born into the world annually, on their farms alone.. not that coming into the office is much quieter, just a tad less messy.
Similarly, taking a little longer to fully form (for very good reasons) and about to spring to life is our new website, which is designed to provide a lot of information in a more concise and user-friendly way to make your booking experience even easier and quicker! Pulling together the content was an interesting stock-take too, on how the business has continued to develop and grow – not only in the number of wonderful customers we see and support to conquer the iconic Coast to Coast each year, but also in other ways for example, the running trips and gravel bike rides.
Then, we have the exciting development of our Guided Walk programme organised in association with the acclaimed Mark Reid – A Fellow of the Royal Geographical Society and highly experienced fully qualified Mountain Leader. Mark has been working with us for several years on our Coast to Coast guided walks. Last year we added one on Hadrian's Wall for our customers who had completed the Coast to Coast with him. This year, we have expanded the programme further with the Dales Way and James Herriot Way!
So, if you've accomplished the Coast to Coast, or have a week or less time to spare, then these are your best ways to experience these superb Yorkshire (and Cumbrian) routes. And, what better way than to celebrate and mark 45 years since the first series of the TV drama All Creatures Great and Small!
Looking at our Team section, was another lovely reminder of how fortunate I've been in finding inspiring and reliable people, who not only share their passion for the outdoors, but are also fully committed to delivering excellent customer service and superb active holidays. Without them, and their resilience during the Covid-19 challenges, this new site and what we do, would not have been possible. For what seems like several months, they have been working like crazy with an unprecedented volume of bookings.
If you've not yet booked your unforgettable Coast to Coast trip, then please don't delay much longer. In the meantime, I hope you enjoy looking at our new website.